This page explains in detail the interactions between the 3D Dot Game Heroes series and the Punch-Out!! series.
3D Dot Game Heroes
2009115 November 5, 2009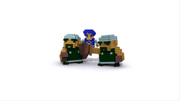 3D Dot Game Heroes4

Punch-Out!!
The loading screens in 3D Dot Game Heroes are recreations of covers of classic videogames, using the game's characters, monsters and in general elements. The Loading Art 104 is based on the cover for Mike Tyson's Punch-Out!!, featuring two villagers as the boxers and a different villager as the referee.
see here for other loading screens.
License
The creators of 3D Dot Game Heroes held no right over Nintendo's Punch-Out!!, but they only included a minor references to the series.
Ad blocker interference detected!
Wikia is a free-to-use site that makes money from advertising. We have a modified experience for viewers using ad blockers

Wikia is not accessible if you've made further modifications. Remove the custom ad blocker rule(s) and the page will load as expected.