This page explains in detail the interactions between the Ace Combat series and the Star Fox series.
Ace Combat: Assault Horizon Legacy +
20150129 January 29, 2015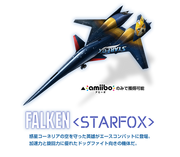 This remake of Ace Combat: Assault Horizon Legacy includes eleven new Nintendo-themed aircraft. One of these is ADF-01 <STARFOX>, themed after Star Fox and unlocked by using Fox's amiibo from the Super Mario Bros. line. For a complete list see Nintendo aircraft in Ace Combat.
The ADF-01 <STARFOX> is based on the ADF-01 FALKEN and it features a space theme with an image of Fox from Star Fox 64 3D on its left vertical stabilizer, and the series' name on the left wing.
License
In an agreement between Nintendo and Bandai Namco, Nintendo-exclusive content was included in the game.
Ad blocker interference detected!
Wikia is a free-to-use site that makes money from advertising. We have a modified experience for viewers using ad blockers

Wikia is not accessible if you've made further modifications. Remove the custom ad blocker rule(s) and the page will load as expected.