This page explains in detail the interactions between the American Dad! series and the Donkey Kong series.
American Dad! episode Spring Breakup
20080518 May 18, 2008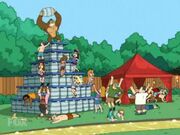 The sixteenth episode of season 4 of American Dad! (Episode #58) is about Roger organizing a spring break party in the Smith's house. In a scene a gorilla is on top of a mountain of beer kegs and then throws one at the people down, spoofing Donkey Kong.
American Dad! episode For Whom the Sleigh Bell Tolls
20101212 December 12, 2010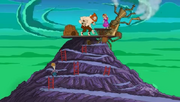 In the eighth episode of season 7 of American Dad! (Episode #104), Roger goes to a moonshiner named Bob Todd searching for the strongest whiskey possible. Drinking Bob Todd's whiskey causes Roger to have allucinations, and in one of the trials he has to face in order to learn how to make the whiskey, they reenact the 25m level from Donkey Kong, with a girl looking like Pauline on top and Bob Todd in the form of a four-armed monster taking on the role of Donkey Kong, while Roger jumps over barrels like Mario. Bob Todd also vocally does the background music and sound effects from the game. As Roger finally reaches and kisses the girl, this is revealed to actually be a raccoon.
American Dad! episode A Piñata Named Desire
20110213 February 13, 2011

In a scene in the eleventh episode of season 7 of American Dad! (Episode #107), during a flashback, Barry is seen wearing a shirt with an image of a character looking like Mario on it.
American Dad! episode School Lies
2011043 April 3, 2011

In a scene in the fourteenth episode of season 7 of American Dad! (Episode #110), on the outside of an arcade there are many posters, including one with the image of Mario. On the inside, an arcade game based on Donkey Kong can be seen on the background.
Other games parodied are Pac-Man, Centipede, Joust and Q*bert
License
The creators of American Dad! didn't hold any right over Nintendo's Donkey Kong, but they only included minor references to the game.
Ad blocker interference detected!
Wikia is a free-to-use site that makes money from advertising. We have a modified experience for viewers using ad blockers

Wikia is not accessible if you've made further modifications. Remove the custom ad blocker rule(s) and the page will load as expected.