This page explains in detail the interactions between the Animal Crossing series and the Donkey Kong series.
Animal Crossing
20010414 April 14, 2001

The complete NES version of Donkey Kong is featured in the game as an unlockable mini-game. It can be obtained in various random ways such as Tom Nook's Monthly Raffle, Crazy Redd's, as present from a neighbor, treasure hunts, birthday presents, etc.
Additionally, the character Louie is a gorilla that looks very similar to Donkey Kong, and he's likely based on him. He also wears the Lil Bro Shirt, that has Luigi's logo on it. Louie also returns in some later games in the series.
Donkey Kong Country: Tropical Freeze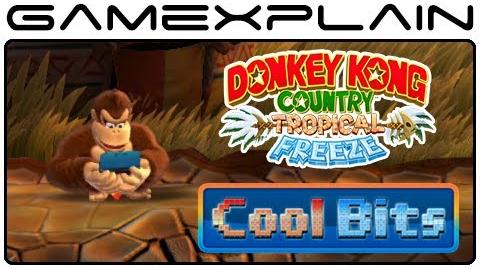 20140213 February 13, 2014
During his idle animation, Donkey Kong is sometimes seen playing a Nintendo 3DS and sounds from various games can be heard, including Animal Crossing: New Leaf
Other games heard include Super Mario 3D Land, Mario Kart 7 and Donkey Kong Country Returns 3D.
License
Copyrights for both series are held by Nintendo.
Ad blocker interference detected!
Wikia is a free-to-use site that makes money from advertising. We have a modified experience for viewers using ad blockers

Wikia is not accessible if you've made further modifications. Remove the custom ad blocker rule(s) and the page will load as expected.