For detailed information about this series, see: Arm Wrestling at Punch Out!! Wiki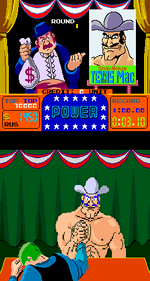 Arm Wrestling is a video game created by Nintendo and released for the arcades only in North America in May 1985.
The game features some stylistic elements from the arcade Punch-Out!!, specifically the dual screens, and also stars the same protagonist, therefore being considered a spin-off to the Punch-Out!! series.
The goal of the game is to become the World Arm Wrestling Champion by defeating as many opponents in arm wrestling as possible. In order to achieve this title the player must compete against five different computer opponents and pin them in a timed match.
Links to other series
Ad blocker interference detected!
Wikia is a free-to-use site that makes money from advertising. We have a modified experience for viewers using ad blockers

Wikia is not accessible if you've made further modifications. Remove the custom ad blocker rule(s) and the page will load as expected.