This page explains in detail the interactions between the Barcode Battler series and the Barcode Fighter series.
Barcode Fighter
19924 April 1992 Barcode Battler5

Barcode Fighter
The Barcode Fighter comic series was inspired on the Barcode Battler game series.
Barcode Fighter Cards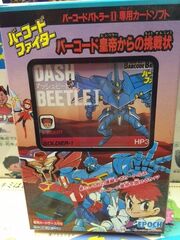 1992
Barcode Battler6

Barcode Fighter
The Barcode Fighter Cards is a set of 30 Barcode Fighter themed cards to use with the Barcode Battler II console.
That's considered an in-universe link because this way characters from the Barcode Fighter series can virtually fight original Barcode Battler enemies.
License
Shogakukan was licensed by Epoch to release Barcode Fighter-themed Barcode Battler cards.
Ad blocker interference detected!
Wikia is a free-to-use site that makes money from advertising. We have a modified experience for viewers using ad blockers

Wikia is not accessible if you've made further modifications. Remove the custom ad blocker rule(s) and the page will load as expected.