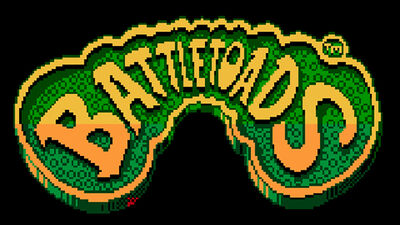 For detailed information about this series, see: Battletoads Wiki
Battletoads is a series of beat'em up videogames created by Rare and published by Tradewest, starring three anthropomorphic toads named after skin conditions: Rash, Zitz, and Pimple.
Video Games
The seires consists in six games:
Battletoads (June 1991) for NES, Amiga, SEGA Genesis/Mega Drive, Game Gear, Amiga CD32. A port for the Game Boy was also released in 1994, titled Battletoads in Ragnarok's World not to be confused with the original Game Boy game Battletoads.
Battletoads (1991), Tiger LCD game.
Battletoads & Double Dragon (June 1993) for NES, SNES, SEGA Genesis, Game Boy. Also known as Battletoads & Double Dragon: The Ultimate Team.
Battletoads in Battlemaniacs (June 1993) for SNES. A Sega Master System version was only released in a barely finished state only in Brazil simply as Battlemaniacs in 1996. It features some characters and plot elements originally from the comic.
Battletoads (September 1993) for Game Boy. Despite featuring the same title, it's a different game than the NES one.
Battletoads (1994), Arcade. Also known as Super Battletoads.
A Game Boy Advance game was also planned, but never finished. An incomplete prototype was released online by RareWareCentral on November 19, 2011 as a rom file.
Other media
A 2-part comic based on the videogame was published on issues 24 (May 1991) and 25 (June 1991) of Nintendo Power, serving as a backstory of the series.
A pilot for a Battletoads TV series based on the original game was produced and aired in 1992, though the series never continued.
Links to Other Series
| Direction | Series | Date | Description | Type |
| --- | --- | --- | --- | --- |
| | Wizards & Warriors | | The Rhyno enemy from Wizards & Warriors makes an appearance in Battletoads. | 1 |
| | Space Invaders | | Battletoads features enemies based on the aliens from Space Invaders. | 3 |
| | Pendragon | | The Karnath's Lair level in Battletoads is named after the Pendragon game The Staff of Karnath. | 3 |
| | Double Dragon | | Battletoads & Double Dragon is a crossover between the two series. | 1 |
| | Jetman | | Battletoads & Double Dragon features a level possibly based on Solar Jetman. | 3 |
| | Mario | | The Battletoads are in Super Mario: Verloren in der Zeit. | 1 |
| | Diddy Kong Racing | | The cancelled Battletoads Game Boy Advance game was going to feature elements from the cancelled Diddy Kong Pilot. | 3 |
| | Angry Video Game Nerd | | The fifty-fifth episode of The Angry Video Game Nerd is a review of the NES version of Battletoads. | 2 |
| | Banjo-Kazooie | | Banjo-Kazooie: Nuts & Bolts features a reference to the Battletoads series. | 2 |
| | Shovel Knight | | The Battletoads appear in the Xbox One version of Shovel Knight. | 1 |
| | Rare Replay | | Rare Replay includes the original Battletoads and the arcade Battletoads as playable games. | 2 |
| | Killer Instinct (Rare) | | Rash from Battletoads is a DLC character in Season 3 of Killer Instinct. | 1 |