For detailed information about this series, see: Bazooka Blitzkrieg on Wikipedia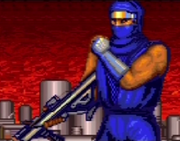 Bazooka Blitzkrieg, called Destructive in Japan, is a rail-shooter video game created by Bandai and released for the SNES in North America on November 31, 1992 and then in Japan on August 27, 1993. It makes use of the Super Scope peripherial.
The story is about a group of robots created by a company called Sylon Inc. starting to attack a city, so the player's character, a Super Scope-weilding ninja, must fight them and ultimately stop them by destroying Sylon Inc.'s mainframe.
Links to other series
Ad blocker interference detected!
Wikia is a free-to-use site that makes money from advertising. We have a modified experience for viewers using ad blockers

Wikia is not accessible if you've made further modifications. Remove the custom ad blocker rule(s) and the page will load as expected.