For more detail see:Bloodstained wiki.
Bloodstained: Ritual of the Night is an upcoming metroidvania video game developed by Inti Creates and published by 505 Games,for Microsoft Windows, OS X, Linux, PlayStation 4, PlayStation Vita, Wii U, and Xbox One.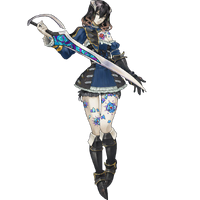 The story is about Miriam, an orphan who is afflicted by an alchemist's curse, which is slowly turning her skin into crystal.To stop the curse, Miriam must explore a demon-filled castle and locate its summoner, Gebel, who has suffered from the same curse for a long time.
Link to other series
Ad blocker interference detected!
Wikia is a free-to-use site that makes money from advertising. We have a modified experience for viewers using ad blockers

Wikia is not accessible if you've made further modifications. Remove the custom ad blocker rule(s) and the page will load as expected.