This page explains in detail the interactions between the Chibi-Robo! series and the Mario series.
Chibi-Robo!
20050623 June 23, 2005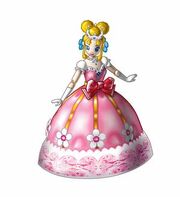 Chibi-Robo! features some little references to the Mario series, specifically:
During the day, the clock on the upper left corner of the screen shows a sun. This is actually the same as the life meter from Super Mario Sunshine, only mirrored and rotated. During the night it shows a moon designed in the same style.
The Princess Pitts character is likely based on Princess Peach, given the similar name, appearance and role, since they both are damsels in distress.
Okaeri! Chibi-Robo! Happy Richie Osoji!
2009723 July 23, 2009

the Power Star from the Mario series appears in the game as a collectable item.
Super Mario Maker
2015910 September 10, 2015

One of the unlockable costumes that Mario can wear in the game by using a Mystery Mushroom is based on Chibi-Robo, and it's unlocked in the 100 Mario Challenge mode or alternatively by using the Chibi-Robo amiibo. When worn it replaces the sound effects with sounds from the original Chibi-Robo!.
License
Copyrights for both series are held by Nintendo.
Ad blocker interference detected!
Wikia is a free-to-use site that makes money from advertising. We have a modified experience for viewers using ad blockers

Wikia is not accessible if you've made further modifications. Remove the custom ad blocker rule(s) and the page will load as expected.