This page explains in detail the interactions between the Dance Dance Revolution series and the Pink Panther series.
Pink Panther and Pals episode Pinxillated
2010328 March 28, 2010

Dance Dance Revolution5

Pink Panther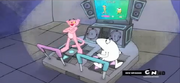 The first clip of the fourth episode of Pink Panther and Pals is about the Pink Panther playing various games in an arcade, while Big Nose tries not to make him win and the two eventually get sucked into the games. The episode features parodies to famous videogames, in detail Dance Dance Revolution, Pac-Man, Street Fighter II and Donkey Kong.
The Dance Dance Revolution parody is the only game that Pink Panther and Big Nose play without going inside it, however the game's avatars are oddly designed after them.
License
Rubicon Studios and MGM Television, that produced Pink Panther and Pals held no right over Konami's Dance Dance Revolution, but they only included a parody of it.
Ad blocker interference detected!
Wikia is a free-to-use site that makes money from advertising. We have a modified experience for viewers using ad blockers

Wikia is not accessible if you've made further modifications. Remove the custom ad blocker rule(s) and the page will load as expected.