This page explains in detail the interactions between the Donkey Kong series and the Konami's Ping Pong series.
Smash Ping Pong
19870530 May 30, 1987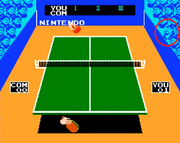 Donket Kong5

Konami's Ping Pong
In the Famicom Disk System version of Konami's Ping Pong, titled Smash Ping Pong, Pentarou's cameo in the audience is replaced by a cameo of Donkey Kong Jr. Like Pentarou, he's on the player's side, cheering when the player score a point, but for some reason the audience sides were switched in this version, so he appears on the right rather than on the left.
Additionally Pentarou's appearance in the title screen is replaced by Diskun, the Famicom Disk System mascot, totally removing the penguin from the game.
License
The Famicom Disk System version of Konami's Ping Pong was licensed by Konami, but produced by Nintendo, so they could freely use Donkey Kong Jr.
Ad blocker interference detected!
Wikia is a free-to-use site that makes money from advertising. We have a modified experience for viewers using ad blockers

Wikia is not accessible if you've made further modifications. Remove the custom ad blocker rule(s) and the page will load as expected.