This page explains in detail the interactions between the Famicom Grand Prix series and the Mario series.
Famicom Grand Prix: F-1 Race
19871030 October 30, 1987

The pilot is shown on the game's cover to be Mario. In the game itself he's only shown before the start of the race, and after winning it. An oddity is that also the other pilots look like Mario.
Super Mario Bros. Game & Watch special edition
1987

A special edition of the Super Mario Bros. Game & Watch, in a case shaped like the Famicom Disk System mascot Diskun, was given out as prize for a Famicom Grand Prix: F-1 Race tournament.
Famicom Grand Prix II: 3D Hot Rally
19880414 April 14, 1988

The pilot is once again shown on the cover to be Mario, but this time there also is Luigi as the navigator. Also they can be seen getting out of the car at the end of the race, but they aren't very recognizable.
Super Mario Bros. & Friends: When I Grow Up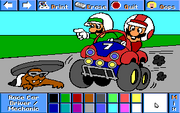 1992324 March 24, 1992

This educational/coloring book game features various colorable images themed after common careers. One of these is the Racecar Driver/Mechanic image and it features Mario and Luigi driving the Monster truck down a dirt road. The image is actually taken directly from the 3D Hot Rally cover.
Mario Kart Wii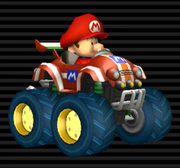 20080410 April 10, 2008

One of the small karts in the game is shaped like the "Monster" from Famicom Grand Prix II: 3D Hot Rally, and its colors also match the original ones when it's driven by Baby Mario. In the Japanese version of the game this kart is even called "Hot Rally", but the name was changed to "Tiny Titan" in North America, and "Rally Romper" in Europe.
Mario Kart 8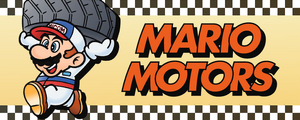 20140529 May 29, 2014
An artwork from Famicom Grand Prix II: 3D Hot Rally appears in Mario Kart 8 on a billboard for "Mario Motors".
License
Copyrights for both series are held by Nintendo.
Ad blocker interference detected!
Wikia is a free-to-use site that makes money from advertising. We have a modified experience for viewers using ad blockers

Wikia is not accessible if you've made further modifications. Remove the custom ad blocker rule(s) and the page will load as expected.