This page explains in detail the interactions between the Flash Point (Sega) series and the Tetris series.
Flash Point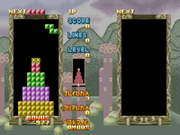 1989

Flash Point is an unauthorized game using the same exact gameplay as Tetris, also including the same piece shapes. This makes it a Type 3 spin-off to the Tetris series.
Unlike Tetris, however, each stage features a starting formation with some flashing blocks. The objective is to clear those specific blocks.
Sega Ages 2500 Series Vol. 28: Tetris Collection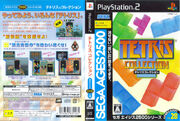 2006928 September 28, 2006

This compilation game includes Sega's version of Tetris, plus Flash Point and Bloxeed.
Being an official Tetris release, this makes Flash Point a semi-official Tetris game.
License
Sega held no right over Tetris when creating Flash Point, but they were only inspired by the game, and its copyright status was debated.
Sega however was officially licensed by The Tetris Company to release Sega Ages 2500 Series Vol. 28: Tetris Collection.
Ad blocker interference detected!
Wikia is a free-to-use site that makes money from advertising. We have a modified experience for viewers using ad blockers

Wikia is not accessible if you've made further modifications. Remove the custom ad blocker rule(s) and the page will load as expected.