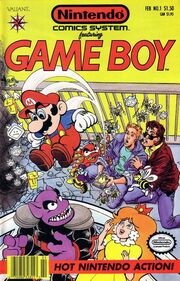 Game Boy is a series of comics published by Valiant as part of their Nintendo Comics System issues 1 trough 4, between february and april 1991 (issues 3 and 4 were both released in april).
The story is about Tatanga, main villain from Super Mario Land, coming out of the Game Boy console and Mario doing the same to follow him, making this comic a spin-off of the Mario series.
Links to other series
Ad blocker interference detected!
Wikia is a free-to-use site that makes money from advertising. We have a modified experience for viewers using ad blockers

Wikia is not accessible if you've made further modifications. Remove the custom ad blocker rule(s) and the page will load as expected.