This page explains in detail the interactions between the Golf (Nintendo) series and the Wario series.
WarioWare: Twisted!
20041014 October 14, 2004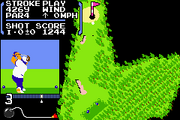 One of 9-Volt and 18-Volt's microgames is based on the NES game Golf. After the golfer hits the ball, the player moves the entire course by twisting the console, and the objective is to make the ball land on the green (or in the hole). The course is more difficult with the higher level.
WarioWare: D.I.Y.
20090429 April 29, 2009
While there are no microgames based on Nintendo's Golf series, the 8-bit instruments include "Golf Ball Strike SFX" from the NES game Golf.
License
Copyrights for both series are held by Nintendo.
Ad blocker interference detected!
Wikia is a free-to-use site that makes money from advertising. We have a modified experience for viewers using ad blockers

Wikia is not accessible if you've made further modifications. Remove the custom ad blocker rule(s) and the page will load as expected.