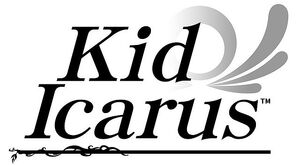 For detailed information about this series, see: Divinipedia
Kid Icarus is a series of videogames by Nintendo revolving around the adventures of the angel Pit.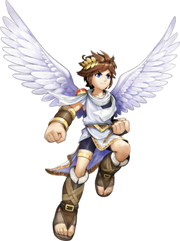 The series is only composite of three games:
Kid Icarus (December 19, 1986), Famicom/NES. Re-released in 2004 for Game Boy Advance in the NES Classics series and in 2007 for Wii via Virtual Console. It was also enclosed in the NES Classic Edition in North America and Europe.
Kid Icarus: Of Myths and Monsters (November 1991), Game Boy.
Kid Icarus: Uprising (March 22, 2012), Nintendo 3DS.
Additionally, sets for a trading card game based on Kid Icarus: Uprising were released starting in 2012. Each card is also compatible with the Nintendo 3DS Augmented Reality and can be used in battles in-game. There curently are 402 cards released or planned.
Links to other series
| Direction | Series | Date | Description | Type |
| --- | --- | --- | --- | --- |
| | Captain N | | Pit and the Eggplant Wizard are recurring characters in Captain N. | 1 |
| | Tetris | | Pit makes an appearance in Tetris for NES. | 1 |
| | F-1 Race | | Pit makes a cameo in the game boy version of F-1 Race. | 1 |
| | Nester | | An episode of Nester's Adventures is dedicated to Kid Icarus: Of Myths and Monsters. | 2 |
| | Mario | | Pit from Kid Icarus is featured in the comic Super Mario: Die Bescherung; UNDIRECT: A challenge for Kid Icarus within NES Remix 2 features elements from Super Mario Bros.: The Lost Levels and Super Mario Bros. 3. | 1 |
| | Kirby | | A Wing of Pegasus is an obtainable item in Kirby Super Star. | 1 |
| | N-Gang | | Pit from Kid Icarus appears in the N-Gang episode "Die Hexe lacht um Mitternacht". | 1 |
| | Wario | | Microgame versions of Kid Icarus are featured in WarioWare: Twisted! and WarioWare: D.I.Y. Showcase. | 2 |
| | Donkey Kong | | A song from Kid Icarus is featured in Donkey Konga 3, while Kid Icarus: Uprising features a reference to Donkey Kong. | 2 |
| | Super Smash Bros. | | Super Smash Bros. Brawl and its sequels feature characters, stages and items from the Kid Icarus series. | 1 |
| | Pushmo | | Pushmo features a level based on a sprite from Kid Icarus. | 2 |
| | Mii Plaza | | Mii Plaza includes a Puzzle Swap puzzle based on Kid Icarus: Uprising. | 2 |
| | Metroid | | The Komayto enemies in the Kid Icarus series are based on metroids; Kid Icaurus: Uprising features a direct reference to the Metroid series. | 2 |
| | Nintendogs | | Kid Icarus: Uprising features references to the Nintendogs series. | 2 |
| | Brain Training | | Kid Icarus: Uprising features references to the Brain Training series. | 3 |
| | Zelda | | Kid Icarus: Uprising features a reference to Navi from Ocarina of Time; UNDIRECT: A challenge for Kid Icarus within NES Remix 2 features elements from Zelda 2: The Adventure of Link. | 1 |
| | NES Remix | | NES Remix 2 includes challenges based on Kid Icarus. | 2 |