This page explains in detail the interactions between the Mario and the Tetris series with the Nintendo World Cup series.
Interactions between the Mario and Tetris series are found at Mario X Tetris.
3-in-1 Super Mario Bros./Tetris/Nintendo World Cup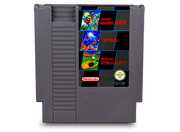 november 1989

Mario/Tetris6

Nintendo World Cup
This game cartridge contains three NES games: Super Mario Bros., Tetris and Nintendo World Cup. All versions of the games are identical to the original, the only addition being obviously a game select sceen at the start.
License
Rights for all three series are held by Nintendo.
Ad blocker interference detected!
Wikia is a free-to-use site that makes money from advertising. We have a modified experience for viewers using ad blockers

Wikia is not accessible if you've made further modifications. Remove the custom ad blocker rule(s) and the page will load as expected.