This page explains in detail the interactions between the Mario series and the Mary Poppins series.
Mario Party 5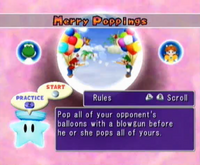 20031110 November 10, 2003
One of the minigames in Mario Party 5 is called "Merry Poppings" as a reference to Mary Poppins. In it players control characters suspended in the sky with thirty balloons, and must pop the opponent's baloons to make them fall.
License
The creators of Mario Party 5 don't hold any right over Mary Poppins, but they only included a subtle reference.
Ad blocker interference detected!
Wikia is a free-to-use site that makes money from advertising. We have a modified experience for viewers using ad blockers

Wikia is not accessible if you've made further modifications. Remove the custom ad blocker rule(s) and the page will load as expected.