This page explains in detail the interactions between the Mario series and the Mobile Golf series.
Mobile Golf

May 11, 2001
Mobile Golf is basically a new version of Mario Golf GB, featuring eight original starting characters, but also eight unlockable characters from the Mario series, four of which are classic Mario characters and four are original human characters from Mario Golf GB:
Classic Mario characters: Mario, Peach, Yoshi and Foreman Spike (Actually a character from Mario's spin-off Wrecking Crew).
Mario Golf GB characters: Kid, Grace, Gene Yuss and Tiny.
Mario Kart DS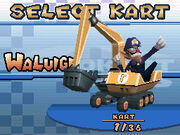 20051114 November 14, 2005 Mario4

Mobile Golf
Waluigi's unlockable vehicle, the Gold Mantis, is an excavator and could be a reference to Foreman Spike's appearance in Mobile Golf.
License
Copyrights for both series are held by Nintendo.
Ad blocker interference detected!
Wikia is a free-to-use site that makes money from advertising. We have a modified experience for viewers using ad blockers

Wikia is not accessible if you've made further modifications. Remove the custom ad blocker rule(s) and the page will load as expected.