This page explains in detail the interactions between the Mario series and the Regular Show series.
Regular Show episode Fortune Cookie
20120123 January 23, 2012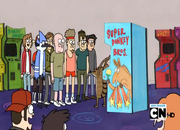 In the thirteenth episode of season 3 (Episode #53), Rigby is seen playing a video game called Super Donkey Bros. While the name is a reference to Super Mario Bros. (and possibly Donkey Kong), the game actually plays like Pong, with the paddles replaced by donkeys.
Super Donkey Bros. is shown again in "JoySpot Arcade" in the episode Busted Cart.
License
The creators of Regular Show didn't hold any right over Nintendo's Mario, but they only included a minor reference to the series.
Ad blocker interference detected!
Wikia is a free-to-use site that makes money from advertising. We have a modified experience for viewers using ad blockers

Wikia is not accessible if you've made further modifications. Remove the custom ad blocker rule(s) and the page will load as expected.