This page explains in detail the interactions between the Mario series and the Tron series.
Tron: Legacy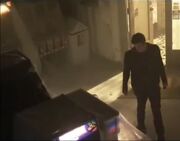 20101217 December 17, 2010
In the scene where Sam enters his father's arcade, a cabinet for Mario Bros. can be seen among the games.
Note that this might be considered an incidental reference, since the camera shows it only briefly.
License
The creators of Tron: Legacy held no right over Nintendo's Mario, but they only included a minor appearance of the game.
Ad blocker interference detected!
Wikia is a free-to-use site that makes money from advertising. We have a modified experience for viewers using ad blockers

Wikia is not accessible if you've made further modifications. Remove the custom ad blocker rule(s) and the page will load as expected.