This page explains in detail the interactions between the Mario series and the Uncle Grandpa series.
Uncle Grandpa episode Afraid of the Dark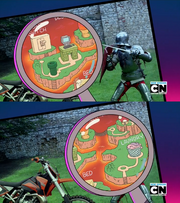 20131021 October 21, 2013

In a scene in the eleventh episode of Uncle Grandpa, the titular character looks closely at a photo of a knight and a motorcycle to reveal a map of his current location. The map is heavily based on Super Mario World's map, containing what seems to be a Warp Pipe and a Toad House amongst the various parts of the room he's in.
License
The creators of Uncle Grandpa held no right over Nintendo's Mario, but they only included a minor reference to the series.
Ad blocker interference detected!
Wikia is a free-to-use site that makes money from advertising. We have a modified experience for viewers using ad blockers

Wikia is not accessible if you've made further modifications. Remove the custom ad blocker rule(s) and the page will load as expected.