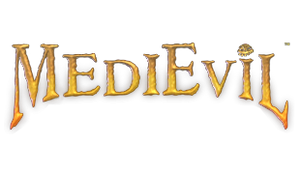 For detailed information about this series, see: Gallowmere Wiki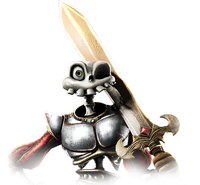 MediEvil is a series of platform-adventure videogames by Sony Computer Entertainment, starring Sir Daniel Fortesque, a knight who fell at the Battle of Gallowmere fought against the evil sorcerer Zarok, and became unfairly remembered as a hero. He is resurrected by Zarok's magic 100 years later, giving him a chance to truly defeat him and to become the hero he was made out to be in legend.
Video games
Three games have been released:
MediEvil (October 9, 1998), PlayStation. Known in Japan as MediEvil: Ressurection of the Hero of Gallowmere. Re-released in 2006 for PSN.
MediEvil 2 (April 19, 2000), PlayStation. Stylized as MediEvil II in North America.
MediEvil: Resurrection (September 1, 2005), PSP. A remake of MediEvil. Re-released in 2008 for PSN.
Also, the 2 games bundle C-12: Final Resistance and MediEvil Twin Pack was released on May 9, 2003 for the PlayStation.
Links to other series
| Direction | Series | Date | Description | Type |
| --- | --- | --- | --- | --- |
| | Creatures | | On Albia, a picture of Zarok can be found under a windmill. | 1 |
| | Everybody's Golf | | The North American and European versions of Everybody's Golf 2 feature Sir Daniel Fortesque as an unlockable golfer. | 1 |
| | Primal | | In the intro of the game, a model of dan-hand can be seen. A version of Dan's tomb is located in the village graveyard of the Aetha realm. | 2 |
| | C-12: Final Resistance | | MediEvil and C-12: Final Resistance were released together in C-12: Final Resistance and Medievil Twin Pack. | 3 |
| | Ghosthunter | | Colonel Freddie Fortesque from Ghosthunter is likely a reference to Sir Daniel Fortesque from MediEvil. | 3 |
| | WipEout | | A ship called Medievil appears in the game as a promotion of MediEvil: Resurrection. | 3 |
| | PlayStation All-Stars | | PlayStation All-Stars Battle Royale features Sir Daniel Fortesque from MediEvil as a playable character. | 1 |
Ad blocker interference detected!
Wikia is a free-to-use site that makes money from advertising. We have a modified experience for viewers using ad blockers

Wikia is not accessible if you've made further modifications. Remove the custom ad blocker rule(s) and the page will load as expected.