This page explains in detail the interactions between the Metroid series and the Wario series.
Mario VS Wario: The Birthday Bash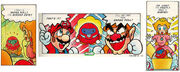 19941 January 1994
Metroid5

Wario
In the second Mario VS Wario comic, Mario and Wario are fighting over a "Samus Doll" that they want to give Peach for her birthday. In the end the only able to give Peach the doll is ironically Luigi.
WarioWare: Twisted!
20041014 October 14, 2004
Metroid5

Wario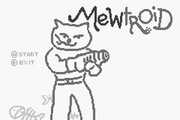 One of the unlockable Minigames is called "Mewtroid" ("Nekotroid" in Japanese) and is a parody of Metroid, starring a cat holding an Arm Cannon similar to Samus'. The minigame also features the Brinstar music from Metroid, but the gameplay is actually totally different.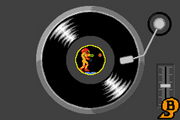 The Brinstar music from Metroid is also featured as an unlockable Record.
WarioWare: Smooth Moves
20061202 December 02, 2006
One of 9-Volt & 18-Volt's microgames is based on Metroid Prime.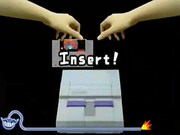 Additionally, in 9-Volt & 18-Volt's microgame "Super Nostalgic Entertainment System", only featured in the North American and European versions (replacing "Family Computer" from the Japanesse version), Super Metroid is one of the games the player has to insert into the console.
Metroid Prime 3: Corruption
20070827 August 27, 2007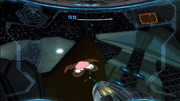 If the Ship Bumper Stickers are unlocked, then stickers will appear on Samus' Gunship depending on what save data the player has on their Wii.
A savefile for WarioWare: Smooth Moves will make the game's logo appear on the ship, consisting in Wario's eyes, nose and moustache.
See here for other available stickers.
WarioWare: D.I.Y.
20090429 April 29, 2009
Wario4

Wrecking Crew
9-Volt's "Metroid" microgame is based on Balloon FightMetroid: Zero Mission.
Additionally, one of the premade objects usable to create original microgames is Morph Ball Samus from Metroid, while two of the unlockable Records are the Brinstar theme from Metroid and the main theme from Super Metroid.
License
Copyrights for both series are held by Nintendo.
Ad blocker interference detected!
Wikia is a free-to-use site that makes money from advertising. We have a modified experience for viewers using ad blockers

Wikia is not accessible if you've made further modifications. Remove the custom ad blocker rule(s) and the page will load as expected.