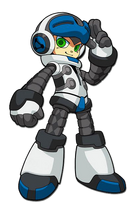 For more in formation see:Mighty No 9 wikia.
Mighty No 9 is a series by Inti Creates and Deep Silver.
Games
Mighty No 9(21 june 2016)for Nintendo WII U,Nintendo 3DS,Playstation 3,Playstation 4,Playstation Vita,Xbox 360,Xbox One,Microsoft Windows PC,Mac and Linux.
Might Gunvolt (August 20 2014), a crossover with Gal*Gun and Azure Striker Gunvolt for Nintendo 3DS, Playstation 4, Playstation Vita and PC.
Web Series
Mighty No 9 the animeted series(2016).
Link to Other Series
Ad blocker interference detected!
Wikia is a free-to-use site that makes money from advertising. We have a modified experience for viewers using ad blockers

Wikia is not accessible if you've made further modifications. Remove the custom ad blocker rule(s) and the page will load as expected.