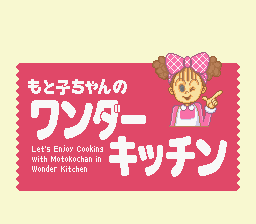 For detailed information about this series, see: Motoko-chan no Wonder Kitchen on Wikipedia
Motoko-chan no Wonder Kitchen is a fantasy cooking video game released only in Japan for the Super Famicom in September 1993. It was created to promote Ajinomoto mayonnaise and was given away with purchases of that brand, making it a quite rare game.
Links to other series
Ad blocker interference detected!
Wikia is a free-to-use site that makes money from advertising. We have a modified experience for viewers using ad blockers

Wikia is not accessible if you've made further modifications. Remove the custom ad blocker rule(s) and the page will load as expected.