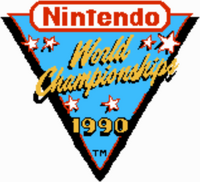 For detailed information about this series, see: Nintendo World Championships on Wikipedia
Nintendo World Championships is a video game that was used in a gaming competition in 1990. Its cardtriges were also given as prizes, so they are considered among the rarest games ever released, with the gold cardtrige being even rarer.
The game consists in three sections:
The first section is Super Mario Bros. and the objective is to collect 50 coins in the least time as possible.
The second section is Rad Racer and the objective is to win the race.
The third section is Tetris and the objective is to get the higher score as possible.
New Nintendo World Championships tournaments were held in 2015 and 2017, but didn't feature any original game.
Links to other series
| Direction | Series | Date | Description | Type |
| --- | --- | --- | --- | --- |
| | Mario | | A version of Super Mario Bros. is included in Nintendo World Championships. | 3 |
| | Rad Racer | | A version of Rad Racer for the NES is included in Nintendo World Championships. | 3 |
| | Tetris | | A version of Tetris for the NES is included in Nintendo World Championships. | 3 |
| | Angry Video Game Nerd | | The 104th episode of The Angry Video Game Nerd is a review of Nintendo World Championships. | 2 |
| | NES Remix | | NES Remix 2 includes a "Championship mode" also known as "Nintendo World Championships Remix". | 2 |