Onesimus: A Quest for Freedom is a Christian platformer video game developed by Epic Games and produced by Ark Multimedia Publishing, released for MS-DOS in 1992.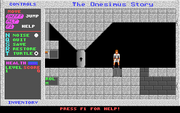 The game is inspired on the life of Saint Onesimus, a runaway slave from the New Testament.
The game is actually a reskin of Jill Saves the Prince, part of the Jill of the Jungle series, and is therefore considered a spin-off of it.
The game features most of the same elements as Jill Saves the Prince including items and enemies, altough some were redesigned. The levels included are the same as Jill Saves the Prince, but there also are some from its prequels.
Links to other series
Ad blocker interference detected!
Wikia is a free-to-use site that makes money from advertising. We have a modified experience for viewers using ad blockers

Wikia is not accessible if you've made further modifications. Remove the custom ad blocker rule(s) and the page will load as expected.