This page lists the Nintendo-themed puzzles in the game Pushmo.
Note that Mario-themed puzzles in its sequel are not listed here, for those see here.
Pushmo
20111005 October 05, 2011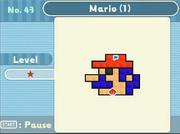 The game features two Nintendo-themed sets of puzzles, called "Nintendo Murals" and "Bonus Nintendo Murals", and include sprites from the series Mario, Donkey Kong, Zelda, Ice Climber, Balloon Fight, Excite, Kid Icarus, Metroid and Urban Champion.
The only series with more than one puzzle are Mario with 19, Zelda with 9 and Excite with 2. For specific information on those see Mario X Pushmo, Pushmo X Zelda and Excite X Pushmo.
Apart from the Nintendo categories, there's a puzzle shaped like Mario's head in the Murals 1 category. Specifically, it's puzzle n. 43 and is based on the extra life sprite from Mario Bros.
Nintendo Murals
The Nintendo Murals category includes 18 puzzles based on sprites from Nintendo games. These are, with the game they're taken from in brackets:
Bonus Nintendo Murals
The Bonus Nintendo Murals category includes 18 more puzzles based on sprites from Nintendo games and are based on larger sprites, increasing the difficulty. These are:
License
Rights for all the involved series are held by Nintendo.
Ad blocker interference detected!
Wikia is a free-to-use site that makes money from advertising. We have a modified experience for viewers using ad blockers

Wikia is not accessible if you've made further modifications. Remove the custom ad blocker rule(s) and the page will load as expected.