Red vs Blue is a series by Rooster Teeth.For more information see:rvb wikia.
Web Series
Red vs Blue (1 April 2003-present).
Red vs Blue Out of Mind(16 Jume 2006-4 September 2006).
Red vs Blue Recovery One(28 October 2007-7 December 2007).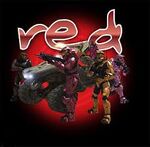 Red vs Blue Relocated(9 February 2009-9 March 2009).
Red vs Blue MIA(13 November 2011-17 December 2011).
Red vs. Blue: Where There's a Will, There's a Wall(14 April 2012-28 April 2012).
Link to other series
Ad blocker interference detected!
Wikia is a free-to-use site that makes money from advertising. We have a modified experience for viewers using ad blockers

Wikia is not accessible if you've made further modifications. Remove the custom ad blocker rule(s) and the page will load as expected.