For detailed information about this series, see: Satella-Q on Super Mario Wiki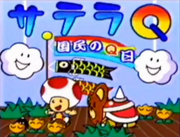 Satella-Q is a quiz video game made by Nintendo and released for the Satellaview in 28 different episodes between October 1995 and April 1999, making it the longest-running of all the Satellaview broadcasts and the one with the most episodes.
The primary character of the game is Toad, a character originally from the Mario series, making this game a spin-off of it. that here guides the player through quizzes and minigames. There also are many other elements from the Mario series such as enemies and places.
Links to other series
Ad blocker interference detected!
Wikia is a free-to-use site that makes money from advertising. We have a modified experience for viewers using ad blockers

Wikia is not accessible if you've made further modifications. Remove the custom ad blocker rule(s) and the page will load as expected.