For detailed information about this series, see: Scribblenauts Wiki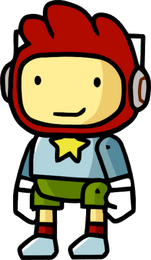 Scribblenauts is a series of puzzle/adventure games developed by 5th Cell and published by WB Games. Their gameplay revolves around the possibility for the player to summon any object simply by typing their names. The main character of the series is a boy named Maxwell.
Released games are:
Scribblenauts (September 15, 2009), Nintendo DS. Known in Japan as Flash Puzzle: Maxwell's Mysterious Notebook.
Super Scribblenauts (October 12, 2010), Nintendo DS.
Scribblenauts Remix (October 7, 2011), iOS. It includes levels and gameplay elements from both previous titles.
Scribblenauts Unlimited (November 13, 2012), Nintendo 3DS, WiiU, PC. Also released in 2015 for iOS and Android.
Scribblenauts Collection (March 5, 2013), Nintendo DS. Collection including Scribblenauts and Super Scribblenauts.
Scribblenauts Unmasked: A DC Comics Adventure (September 24, 2013), Nintendo 3DS, WiiU, PC.
Scribblenauts Showdown (March 6, 2018), Nintendo Switch, PlayStation 4, Xbox One.
An iOS game titled Scribblenauts: Fighting Words was in development since 2014, but was cancelled in 2016.
Links to other series
| Direction | Series | Date | Description | Type |
| --- | --- | --- | --- | --- |
| | Anchorman | | The Anchorman object in Scribblenauts is based on the main character from the movie Anchorman. | 3 |
| | Indiana Jones | | The Archeologist object and, by extension, the Paleontologist object, in Scribblenauts are based on Indiana Jones. | 3 |
| | Assassin's Creed | | The Female Assassin object in Scribblenauts is based on Ezio from Assassin's Creed II. | 3 |
| | Chuck | | The Clerk object in Scribblenauts is based on Chuck. | 3 |
| | The Simpsons | | Luke Leon from Scribblenauts is based on Bart Simpson. | 3 |
| | Ghostbusters | | The Proton Pack object in Scribblenauts is a reference to Ghostbusters. | 3 |
| | Final Fantasy | | The Siren object from Scribblenauts is based on the Siren from Final Fantasy VIII. | 3 |
| | Evil Dead | | The Necronomicon and Skeletal Warriors objects in Scribblenauts are a reference to The Army of Darkness. | 3 |
| | Tron | | The Cyber Suit object in Scribblenauts is based on the suits from Tron. | 3 |
| | Futurama | | The "I See What You Did There" object in Scribblenauts is based on Fry and Leela from Futurama. | 3 |
| | Warcraft | | A synonim for the Knight object in Scribblenauts is "Leeroy Jenkins". | 3 |
| | Dragon Ball | | A synonim for the Monocle object in Scribblenauts is "Over Nine Thousand". | 3 |
| | Sonic | | In Scribblenauts, Hedgehogs chase rings as a reference to Sonic. | 3 |
| | Bleach | | Scribblenauts features the Loituma Girl object, based on a Bleach meme. | 3 |
| | Back to the Future | | The Time Traveler and Hoverboard objects likely reference Back to the Future. | 3 |
| | Zero Wing | | Super Scribblenauts and its sequels feature the spawnable object "All Your Base Are Belong To Us". | 2 |
| | Metal Gear | | The Japanese version of Scribblenauts features spawnable Metal Gear characters. | 1 |
| | Ganbare Goemon | | The Japanese version of Scribblenauts features spawnable Ganbare Goemon characters. | 1 |
| | Castlevania | | The Japanese version of Scribblenauts features Alucard from Castlevania as a spawnable object. | 1 |
| | Gradius | | The Japanese version of Gradius features the Vic Viper from Gradius as a spawnable object. | 1 |
| | LovePlus | | The Japanese version of Scribblenauts features Manaka from LovePlus as a spawnable object. | 1 |
| | Pokémon | | Scribblenauts Unlimited features the fan-made Pokémon "Tentaquil". | 3 |
| | Dr. Strangelove | | Scribblenauts Unlimited features a reference to Dr. Strangelove trough the character Ari Bilow. | 3 |
| | Mario | | The Wii U version of Scribblenauts Unlimited features spawnable Mario elements. | 1 |
| | Zelda | | The Wii U version of Scribblenauts Unlimited features spawnable Zelda elements. | 1 |
| | SpongeBob | | In Scribblenauts Unlimited at The Lost Kingdom of Parentheses there is a pinapple, a tiki, and a rock. pressing use will spawn a starfish (Patrick), a squid (Squidward), and a sponge (Spongebob). | 3 |
| | Smosh | | Scribblenauts characters appear in Scribblenauts in Real Life. | 2 |
| | Green Lantern | | Scribblenauts Unmasked features spawnable objects from the Green Lantern series. | 1 |
| | The Flash | | Scribblenauts Unmasked features spawnable objects from the Flash series. | 1 |
| | Hawkman | | Scribblenauts Unmasked features spawnable elements from the Hawkman series. | 1 |
| | The Great Ten | | Scribblenauts Unmasked features spawnable characters from The Great Ten series. | 1 |
| | Justice League | | Scribblenauts Unmasked features spawnable objects from the Justice League series. | 1 |
| | Superman | | Scribblenauts Unmasked features spawnable objects from the Superman series; Clark from Scribblenauts Unlimited is based on Clark Kent/Superman.. | 1 |
| | Adam Strange | | Scribblenauts Unmasked features spawnable elements from the Adam Strange series. | 1 |
| | Birds of Prey | | Scribblenauts Unmasked features spawnable objects from the Birds of Prey series. | 1 |
| | Wonder Woman | | Scribblenauts Unmasked features spawnable objects from the Wonder Woman series. | 1 |
| | Air Wave | | Scribblenauts Unmasked features spawnable objects from the Air Wave series. | 1 |
| | Batman | | Scribblenauts Unmasked features spawnable objects from the Batman series. | 1 |
| | Crisis (DC Comics) | | Scribblenauts Unmasked features spawnable objects from the Crisis series. | 1 |
| | Valor | | Scribblenauts Unmasked features spawnable characters from the Valor series. | 1 |
| | Alias the Spider | | Scribblenauts Unmasked features Alias the Spider as a spawnable character. | 1 |
| | Nightwing | | Scribblenauts Unmasked features spawnable characters from the Nightwing series. | 1 |
| | Captain Atom | | Scribblenauts Unmasked features spawnable characters from the Captain Atom series. | 1 |
| | Captain Carrot | | Scribblenauts Unmasked features spawnable characters from the Captain Carrot series. | 1 |
| | Metal Men | | Scribblenauts Unmasked features spawnable objects from the Metal Men series. | 1 |
| | All-Star Squadron | | Scribblenauts Unmasked features spawnable characters from the All-Star Squadron series. | 1 |
| | Aquaman | | Scribblenauts Unmasked features spawnable objects from the Aquaman series. | 1 |
| | Suicide Squad | | Scribblenauts Unmasked features spawnable characters from the Suicide Squad series. | 1 |
| | Infinity, Inc. | | Scribblenauts Unmasked features spawnable characters from the Infinity, Inc. series. | 1 |
| | Ambush Bug | | Scribblenauts Unmasked features Ambush Bug as a spawnable character. | 1 |
| | Amethyst | | Scribblenauts Unmasked features Amethyst and Dark Opal as spawnable characters. | 1 |
| | L.E.G.I.O.N. | | Scribblenauts Unmasked features spawnable characters from the L.E.G.I.O.N. series. | 1 |
| | Boy Commandos | | Scribblenauts Unmasked features spawnable characters from the Boy Commandos series. | 1 |
| | I, Vampire | | Scribblenauts Unmasked features Andrew Bennett as a spawnable character. | 1 |
| | Legion of Super-Heroes | | Scribblenauts Unmasked features spawnable objects from the Legion of Super-Heroes series. | 1 |
| | Angel and the Ape | | Scribblenauts Unmasked features Angel O'Day and Ape as spawnable characters. | 1 |
| | Anima | | Scribblenauts Unmasked features Anima as a spawnable character. | 1 |
| | Animal Man | | Scribblenauts Unmasked features spawnable characters from the Animal Man series. | 1 |
| | Anthro | | Scribblenauts Unmasked features Anthro as a spawnable character. | 1 |
| | Red Lanterns | | Scribblenauts Unmasked features spawnable characters from the Red Lanterns series. | 1 |
| | Teen Titans | | Scribblenauts Unmasked features spawnable objects from the Teen Titans series. | 1 |
| | Swamp Thing | | Scribblenauts Unmasked features spawnable objects from the Swamp Thing series. | 1 |
| | Arak | | Scribblenauts Unmasked features Arak (aka Arak Son of Thunder) and Valda as spawnable characters. | 1 |
| | Arion | | Scribblenauts Unmasked features spawnable characters from the Arion series. | 1 |
| | Robin | | Scribblenauts Unmasked features spawnable objects from the Robin series. | 1 |
| | Green Arrow | | Scribblenauts Unmasked features spawnable objects from the Green Arrow series. | 1 |
| | Batgirl | | Scribblenauts Unmasked features Aruna from the Batgirl series as a spawnable character. | 1 |
| | New Gods | | Scribblenauts Unmasked features spawnable objects from the New Gods series. | 1 |
| | Atlas (DC Comics) | | Scribblenauts Unmasked features Atlas as a spawnable character. | 1 |
| | The Atom | | Scribblenauts Unmasked features spawnable character from the Atom series. | 1 |
| | Justice Society of America | | Scribblenauts Unmasked features spawnable characters from the Justice Society of America series. | 1 |
| | Atomic Knights | | Scribblenauts Unmasked features Atomic Knight as a spawnable character. | 1 |
| | Inferior Five | | Scribblenauts Unmasked features spawnable charcters from the Inferior Five series. | 1 |
| | Aztek | | Scribblenauts Unmasked features Aztek as a spawnable character. | 1 |
| | Blue Beetle | | Scribblenauts Unmasked features spawnable objects from the Blue Beetle series. | 1 |
| | The Outsiders | | Scribblenauts Unmasked features spawnable characters from the Outsiders series. | 1 |
| | Bat Lash | | Scribblenauts Unmasked features Bat Lash as a spawnable character. | 1 |
| | Batwoman | | Scribblenauts Unmasked features Batwoman in her incarnation from the Batwoman series as a spawnable character. | 1 |
| | The Demon | | Scribblenauts Unmasked features spawnable objects from the Demon series. | 1 |
| | Forever People | | Scribblenauts Unmasked features spawnable objects from the Forever People series. | 1 |
| | Kamandi | | Scribblenauts Unmasked features spawnable characters from the Kamandi series. | 1 |
| | Superboy | | Scribblenauts Unmasked features spawnable characters from the Superboy series. | 1 |
| | Mister Miracle | | Scribblenauts Unmasked features spawnable characters from the Mister Miracle series. | 1 |
| | Sea Devils | | Scribblenauts Unmasked features spawnable characters from the Sea Devils series. | 1 |
| | The Guardian (DC Comics) | | Scribblenauts Unmasked features spawnable characters from the Guardian series. | 1 |
| | Shazam! | | Scribblenauts Unmasked features spawnable objects from the Shazam! series. | 1 |
| | Martian Manhunter | | Scribblenauts Unmasked features spawnable objects from the Martian Manhunter series. | 1 |
| | Birds of Prey | | Scribblenauts Unmasked features spawnable characters from the Birds of Prey series. | 1 |
| | Guy Gardner | | Scribblenauts Unmasked features spawnable characters from the Guy Gardner series. | 1 |
| | Firestorm | | Scribblenauts Unmasked features spawnable characters from the Firestorm series. | 1 |
| | Black Canary | | Scribblenauts Unmasked features Black Canary and Classic Dinah Laurel Lance as spawnable characters. | 1 |
| | Black Condor | | Scribblenauts Unmasked features Black Condor and Black Condor II as spawnable characters. | 1 |
| | Freedom Fighters | | Scribblenauts Unmasked features spawnable characters from the Freedom Fighters series. | 1 |
| | Smallville | | Scribblenauts Unmasked features Black Kryptonite and Silver Kryptonite from the Smallville series as spawnable objects. | 1 |
| | Black Lightning | | Scribblenauts Unmasked features Black Lightning and Tobias Whale as spawnable characters. | 1 |
| | Black Orchid | | Scribblenauts Unmasked features Black Orchid as a spawnable character. | 1 |
| | Black Pirate | | Scribblenauts Unmasked features Black Pirate as a spawnable character. | 1 |
| | Blackhawk | | Scribblenauts Unmasked features spawnable objects from the Blackhawk series. | 1 |
| | Young Justice | | Scribblenauts Unmasked features spawnable characters from the Young Justice series. | 1 |
| | Blue Devil | | Scribblenauts Unmasked features spawnable characters from the Blue Devil series. | 1 |
| | Resurrection Man | | Scribblenauts Unmasked features spawnable characters from the Resurrection Man series. | 1 |
| | Booster Gold | | Scribblenauts Unmasked features spawnable objects from the Booster Gold series. | 1 |
| | R.E.B.E.L.S. | | Scribblenauts Unmasked features spawnable characters from the R.E.B.E.L.S. series. | 1 |
| | Doom Patrol | | Scribblenauts Unmasked features spawnable characters from the Doom Patrol series. | 1 |
| | Legends (DC Comics) | | Scribblenauts Unmasked features Brimstone from the Legends series as a spawnable character. | 1 |
| | Richard Dragon | | Scribblenauts Unmasked features spawnable characters from the Richard Dragon series. | 1 |
| | Chase | | Scribblenauts Unmasked features Cameron Chase and Bronze Wraith Martian Manhunter from the Chase series as spawnable characters. | 1 |
| | Omega Men | | Scribblenauts Unmasked features spawnable characters from the Omega Men series. | 1 |
| | OMAC | | Scribblenauts Unmasked features spawnable objects from the OMAC series. | 1 |
| | Brother Power, the Geek | | Scribblenauts Unmasked features Brother Power as a spawnable character. | 1 |
| | Seven Soldiers of Victory | | Scribblenauts Unmasked features spawnable characters from the Seven Soldiers of Victory series. | 1 |
| | Bulletman | | Scribblenauts Unmasked features Bulletman and Bulletgirl as spawnable characters. | 1 |
| | B'wana Beast | | Scribblenauts Unmasked features B'wana Beast as a spawnable character. | 1 |
| | Captain Comet | | Scribblenauts Unmasked features Captain Comet as a spawnable character. | 1 |
| | Captain Fear | | Scribblenauts Unmasked features Captain Fear as a spawnable character. | 1 |
| | Our Fighting Forces | | Scribblenauts Unmasked features Captain Hunter from the Our Fighting Forces comics as a spawnable character. | 1 |
| | Captain Marvel, Jr. | | Scribblenauts Unmasked features Captain Marvel Jr and Freddy Freeman as spawnable characters. | 1 |
| | Capt. Storm | | Scribblenauts Unmasked features Captain Storm as a spawnable character. | 1 |
| | Crack Comics | | Scribblenauts Unmasked features Captain Triumph, Madame Fatal, Michael Gallant and Tor Magic Master from Crack Comics as spawnable characters. | 1 |
| | Star-Spangled Comics | | Scribblenauts Unmasked features Captain X, Mademoiselle Marie, Star Rocket Racer, Star-Spangled Kid I, Tarantula, Tarantula's Web Gun from Star-Spangled Comics as spawnable objects. | 1 |
| | The Brave and the Bold | | Scribblenauts Unmasked features Cave Carson and Golden Gladiator from The Brave and the Bold comics as spawnable characters. | 1 |
| | Challengers of the Unknown | | Scribblenauts Unmasked features spawnable characters from the Challengers of the Unknown series. | 1 |
| | 52 | | Scribblenauts Unmasked features spawnable characters from the 52 series. | 1 |
| | Checkmate (DC Comics) | | Scribblenauts Unmasked features Checkmate as a spawnable object. | 1 |
| | Dial H for Hero | | Scribblenauts Unmasked features spawnable objects from the Dial H for Hero series. | 1 |
| | Chris KL-99 | | Scribblenauts Unmasked features Chris Kl-Ninetynine as a spawnable character. | 1 |
| | Chronos (DC Comics) | | Scribblenauts Unmasked features Chronos II as a spawnable object. | 1 |
| | Cinnamon | | Scribblenauts Unmasked features Cinnamon and Cinnamon II as spawnable characters. | 1 |
| | Steel (DC Comics) | | Scribblenauts Unmasked features spawnable objects from the Steel series. | 1 |
| | Claw the Unconquered | | Scribblenauts Unmasked features Claw the Unconquered as a spawnable character. | 1 |
| | The Comet | | Scribblenauts Unmasked features Comet as a spawnable character. | 1 |
| | Mighty Crusaders | | Scribblenauts Unmasked features spawnable characters from the Mighty Crusaders series. | 1 |
| | Commander Steel | | Scribblenauts Unmasked features Commander Steel as a spawnable character. | 1 |
| | Congorilla | | Scribblenauts Unmasked features Congorilla as a spawnable character. | 1 |
| | The Secret Society of Super-Villains | | Scribblenauts Unmasked features spawnable characters from the Secret Society of Super-Villains series. | 1 |
| | Starman | | Scribblenauts Unmasked features spawnable objects from the Starman series. | 1 |
| | Creature Commandos | | Scribblenauts Unmasked features spawnable characters from the Creature Commandos series. | 1 |
| | The Creeper | | Scribblenauts Unmasked features Creeper as a spawnable character. | 1 |
| | Crimson Avenger | | Scribblenauts Unmasked features spawnable objects from the Crimson Avenger series. | 1 |
| | Damage | | Scribblenauts Unmasked features Damage as a spawnable character. | 1 |
| | Invasion! | | Scribblenauts Unmasked features D'aran Tuu from the Invasion! series as a spawnable character. | 1 |
| | Darkstars | | Scribblenauts Unmasked features spawnable objects from the Darkstars series. | 1 |
| | Deadman | | Scribblenauts Unmasked features Deadman and Sensei as spawnable characters. | 1 |
| | Deathstroke | | Scribblenauts Unmasked features spawnable objects from the Deathstroke series. | 1 |
| | 'Mazing Man | | Scribblenauts Unmasked features spawnable characters from the 'Mazing Man series. | 1 |
| | Shadowpact | | Scribblenauts Unmasked features spawnable objects from the Shadowpact series. | 1 |
| | Hero Hotline | | Scribblenauts Unmasked features spawnable characters from the Hero Hotline series. | 1 |
| | Sandman (DC Comics) | | Scribblenauts Unmasked features spawnable characters from the Sandman series. | 1 |
| | Doctor Fate | | Scribblenauts Unmasked features spawnable objects from the Doctor Fate series. | 1 |
| | Doctor Mid-Nite | | Scribblenauts Unmasked features Doctor Mid-Nite as a spawnable character. | 1 |
| | Doctor Occult | | Scribblenauts Unmasked features Doctor Occult and the Symbol of the Seven as spawnable objects. | 1 |
| | Doctor Thirteen | | Scribblenauts Unmasked features Doctor Occult as a spawnable character. | 1 |
| | Doll Man | | Scribblenauts Unmasked features spawnable characters from the Doll Man series. | 1 |
| | All-Star Western | | Scribblenauts Unmasked features Don Caballero and Super-Chief from All-Star Western comics as a spawnable character. | 1 |
| | Hawk and Dove | | Scribblenauts Unmasked features spawnable characters from the Hawk and Dove series. | 1 |
| | Brightest Day | | Scribblenauts Unmasked features spawnable objects from the Brightest Day series. | 1 |
| | Eclipso | | Scribblenauts Unmasked features Eclipso, Eclipso II and Eclipso's Black Diamond as spawnable objects. | 1 |
| | El Diablo | | Scribblenauts Unmasked features El Diablo and El Diablo II as spawnable characters. | 1 |
| | Blackest Night | | Scribblenauts Unmasked features spawnable characters from the Blackest Night series. | 1 |
| | Millennium (DC Comics) | | Scribblenauts Unmasked features spawnable characters from the Millennium series. | 1 |
| | Extreme Justice | | Scribblenauts Unmasked features spawnable characters from the Extreme Justice series. | 1 |
| | Orion (DC Comics) | | Scribblenauts Unmasked features spawnable objects from the Orion series. | 1 |
| | Firebrand | | Scribblenauts Unmasked features Firebrand III as a spawnable character. | 1 |
| | Young All-Stars | | Scribblenauts Unmasked features spawnable characters from the Young All-Stars series. | 1 |
| | Genius Jones | | Scribblenauts Unmasked features Genius Jones as a spawnable character. | 1 |
| | Ghost Patrol | | Scribblenauts Unmasked features spawnable character from the Ghost Patrol series. | 1 |
| | GI Robot | | Scribblenauts Unmasked features GI Robot as a spawnable character. | 1 |
| | Cyborg | | Scribblenauts Unmasked features Gizmo II from the Cyborg series as a spawnable character. | 1 |
| | Men of War | | Scribblenauts Unmasked features Gravedigger from the Men of War comics as a spawnable character. | 1 |
| | Arkham Asylum | | Scribblenauts Unmasked features spawnable characters from the Arkham Asylum series. | 1 |
| | WildC.A.T.s | | Scribblenauts Unmasked features Grifter from the WildC.A.T.s series as a spawnable character. | 1 |
| | Catwoman | | Scribblenauts Unmasked features spawnable characters from the Catwoman series. | 1 |
| | Static Shock | | Scribblenauts Unmasked features spawnable characters from the Static Shock series. | 1 |
| | Gunfire | | Scribblenauts Unmasked features Gunfire as a spawnable character. | 1 |
| | Gunner & Sarge | | Scribblenauts Unmasked features Gunner, Pooch and Sarge as spawnable characters. | 1 |
| | Hacker Files | | Scribblenauts Unmasked features Hacker Files as a spawnable object. | 1 |
| | Heckler | | Scribblenauts Unmasked features Heckler as a spawnable character. | 1 |
| | Hitman | | Scribblenauts Unmasked features Hitman as a spawnable character. | 1 |
| | Hourman | | Scribblenauts Unmasked features spawnable characters from the Hourman series. | 1 |
| | Human Bomb | | Scribblenauts Unmasked features Human Bomb as a spawnable character. | 1 |
| | Human Target | | Scribblenauts Unmasked features Human Target as a spawnable character. | 1 |
| | Strange Adventures | | Scribblenauts Unmasked features Immortal Man and Star Hawkins from Strange Adventures comics as spawnable characters. | 1 |
| | Impulse | | Scribblenauts Unmasked features spawnable characters from the Impulse series. | 1 |
| | Night Force | | Scribblenauts Unmasked features spawnable characters from the Night Force series. | 1 |
| | Super Friends | | Scribblenauts Unmasked features spawnable characters from the Super Friends series. | 1 |
| | Secret Six | | Scribblenauts Unmasked features spawnable characters from the Secret Six series. | 1 |
| | Jemm, Son of Saturn | | Scribblenauts Unmasked features Jemm Son of Saturn as a spawnable character. | 1 |
| | The Warlord | | Scribblenauts Unmasked features Jennifer Morgan and Warlord as spawnable characters. | 1 |
| | Constantine | | Scribblenauts Unmasked features John Constantine and Nergal as spawnable characters. | 1 |
| | The Losers | | Scribblenauts Unmasked features spawnable characters from the Losers series. | 1 |
| | Gotham Underground | | Scribblenauts Unmasked features Johnny Denetto from the Gotham Underground series as a spawnable character. | 1 |
| | Johnny Peril | | Scribblenauts Unmasked features Johnny Peril as a spawnable character. | 1 |
| | Johnny Thunder and Thunderbolt | | Scribblenauts Unmasked features Johnny Thunder and Thunderbolt Pen as spawnable objects. | 1 |
| | Johnny Thunder | | Scribblenauts Unmasked features Johnny Thunder I and Madame Fourtyfour as a spawnable character. | 1 |
| | Jonah Hex | | Scribblenauts Unmasked features Jonah Hex as a spawnable character. | 1 |
| | Jonni Thunder | | Scribblenauts Unmasked features Jonni Thunder as a spawnable character. | 1 |
| | Judomaster | | Scribblenauts Unmasked features Judomaster and Tiger as spawnable characters. | 1 |
| | Challengers of the Unknown | | Scribblenauts Unmasked features spawnable characters from the Challengers of the Unknown series. | 1 |
| | Kid Eternity | | Scribblenauts Unmasked features Kid Eternity as a spawnable character. | 1 |
| | The King (DC Comics) | | Scribblenauts Unmasked features King as a spawnable character. | 1 |
| | Kingdom Come | | Scribblenauts Unmasked features spawnable characters from the Kingdom Come series. | 1 |
| | Kobra | | Scribblenauts Unmasked features Kobra as a spawnable character. | 1 |
| | Supergirl | | Scribblenauts Unmasked features spawnable objects from the Supergirl series. | 1 |
| | Liberty Belle | | Scribblenauts Unmasked features Liberty Belle as a spawnable character. | 1 |
| | Lobo | | Scribblenauts Unmasked features spawnable objects from the Lobo series. | 1 |
| | Madame Xanadu | | Scribblenauts Unmasked features Madame Xanadu as a spawnable character. | 1 |
| | Smash Comics | | Scribblenauts Unmasked features Magno from Smash Comics as a spawnable character. | 1 |
| | Manhunter (DC Comics) | | Scribblenauts Unmasked features spawnable objects from the Manhunter series. | 1 |
| | Mary Marvel | | Scribblenauts Unmasked features Mary Batson aka Mary Shazam as a spawnable character. | 1 |
| | Metamorpho | | Scribblenauts Unmasked features Metamorpho and the Orb of Ra as spawnable objects. | 1 |
| | Midnight (DC Comics) | | Scribblenauts Unmasked features Midnight as a spawnable character. | 1 |
| | Mister America (DC Comics) | | Scribblenauts Unmasked features Mister America I as a spawnable character. | 1 |
| | Mister E | | Scribblenauts Unmasked features Mister E as a spawnable character. | 1 |
| | Villains United | | Scribblenauts Unmasked features spawnable characters from the Villains United series. | 1 |
| | Armageddon 2001 | | Scribblenauts Unmasked features Monarch and Waverider from the Armageddon 2001 series as spawnable characters. | 1 |
| | Police Comics | | Scribblenauts Unmasked features Mouthpiece from Police Comics as a spawnable character. | 1 |
| | Sensation Comics | | Scribblenauts Unmasked features Mr Terrific from Sensation Comics as a spawnable character. | 1 |
| | Detective Comics | | Scribblenauts Unmasked features Mysto from Detective Comics as a spawnable character. | 1 |
| | Nathaniel Dusk | | Scribblenauts Unmasked features Nathaniel Dusk as a spawnable character. | 1 |
| | Nemesis (DC Comics) | | Scribblenauts Unmasked features Nemesis as a spawnable character. | 1 |
| | Hit Comics | | Scribblenauts Unmasked features Neon the Unknown and Red Bee from Hit Comics as spawnable characters. | 1 |
| | Underworld Unleashed | | Scribblenauts Unmasked features Neron from the Underworld Unleashed series as a spawnable character. | 1 |
| | DC: The New Frontier | | Scribblenauts Unmasked features New Frontier Superman as a spawnable character. | 1 |
| | Blood Pack | | Scribblenauts Unmasked features Nightblade from the Blood Pack series as a spawnable character. | 1 |
| | Western Comics (DC Comics) | | Scribblenauts Unmasked features Nighthawk from Western Comics as a spawnable character. | 1 |
| | Frankenstein (DC Comics) | | Scribblenauts Unmasked features Nina Mazursky and Velcoro from the Frankenstein series as a spawnable character. | 1 |
| | Odd Man | | Scribblenauts Unmasked features Odd Man as a spawnable character. | 1 |
| | Krypto the Superdog | | Scribblenauts Unmasked features Orange Kryptonite from Krypto the Superdog as a spawnable object. | 1 |
| | Trinity of Sin | | Scribblenauts Unmasked features Pandora from the Trinity of Sin series as a spawnable character. | 1 |
| | Peacemaker | | Scribblenauts Unmasked features Peacemaker as a spawnable character. | 1 |
| | Living Assault Weapons | | Scribblenauts Unmasked features Peacemaker III from the Living Assault Weapons series as a spawnable character. | 1 |
| | Phantom Lady | | Scribblenauts Unmasked features Phantom Lady I and Phantom Lady II as spawnable characters. | 1 |
| | Phantom Stranger | | Scribblenauts Unmasked features Phantom Stranger, Tala and Tannarak as spawnable characters. | 1 |
| | Plastic Man | | Scribblenauts Unmasked features Plastic Man and Plastic Man Costume as spawnable objects. | 1 |
| | Spectre (DC Comics) | | Scribblenauts Unmasked features spawnable characters from the Spectre series. | 1 |
| | Stalker (DC Comics) | | Scribblenauts Unmasked features spawnable characters from the Stalker series. | 1 |
| | Prez | | Scribblenauts Unmasked features Prez as a spawnable character. | 1 |
| | Prince Ra-Man | | Scribblenauts Unmasked features Prince Ra-Man from House of Secrets comics as a spawnable character. | 1 |
| | Ragman | | Scribblenauts Unmasked features Ragman as a spawnable character. | 1 |
| | The Ray | | Scribblenauts Unmasked features Ray I, Ray III and The Ray as spawnable characters. | 1 |
| | Scribbly | | Scribblenauts Unmasked features Red Tornado I from the Scribbly series as a spawnable character. | 1 |
| | Red Tornado | | Scribblenauts Unmasked features Red Torpedo and Red Volcano from the Red Tornado series as spawnable characters. | 1 |
| | Rima | | Scribblenauts Unmasked features Rima as a spawnable character. | 1 |
| | Time Masters | | Scribblenauts Unmasked features Rip Hunter and his Timesphere as spawnable objects. | 1 |
| | Robotman (DC Comics) | | Scribblenauts Unmasked features Robotman I as a spawnable character. | 1 |
| | Stars and S.T.R.I.P.E. | | Scribblenauts Unmasked features spawnable characters from the Stars and S.T.R.I.P.E. series. | 1 |
| | Sarge Steel | | Scribblenauts Unmasked features Sarge Steel as a spawnable character. | 1 |
| | Sargon the Sorcerer | | Scribblenauts Unmasked features Sargon the Sorcerer as a spawnable character. | 1 |
| | Sgt Rock | | Scribblenauts Unmasked features Sgt Rock as a spawnable character. | 1 |
| | Shade the Changing Man | | Scribblenauts Unmasked features Shade the Changing Man as a spawnable character. | 1 |
| | Shining Knight | | Scribblenauts Unmasked features spawnable objects from the Shining Knight series. | 1 |
| | Slam Bradley | | Scribblenauts Unmasked features Slam Bradley as a spawnable character. | 1 |
| | DC One Million | | Scribblenauts Unmasked features Solaris from the DC One Million series as a spawnable character. | 1 |
| | Son of Vulcan | | Scribblenauts Unmasked features Son of Vulcan as a spawnable character. | 1 |
| | Mystery in Space | | Scribblenauts Unmasked features Space Cabby from Mystery in Space comics as a spawnable character. | 1 |
| | Space Ranger | | Scribblenauts Unmasked features Space Ranger as a spawnable character. | 1 |
| | Sugar and Spike | | Scribblenauts Unmasked features Sugar and Spike as spawnable characters. | 1 |
| | Stanley and His Monster | | Scribblenauts Unmasked features Spot and Stanley Dover as spawnable characters. | 1 |
| | Spy Smasher | | Scribblenauts Unmasked features Spy Smasher as a spawnable character. | 1 |
| | Azrael (DC Comics) | | Scribblenauts Unmasked features Sword of Salvation and Sword of Sin from the Azrael series as spawnable objects. | 1 |
| | Takion | | Scribblenauts Unmasked features Takion as a spawnable character. | 1 |
| | Talon | | Scribblenauts Unmasked features Talon as a spawnable character. | 1 |
| | Terra (DC Comics) | | Scribblenauts Unmasked features Terra III as a spawnable character. | 1 |
| | The Question | | Scribblenauts Unmasked features The Question and The Question II as spawnable characters. | 1 |
| | Books of Magic | | Scribblenauts Unmasked features Timothy Hunter from the Books of Magic series as a spawnable character. | 1 |
| | Tommy Tomorrow | | Scribblenauts Unmasked features Thomas Tomorrow as a spawnable character. | 1 |
| | Ultra the Multi-Alien | | Scribblenauts Unmasked features Ultra the Multi-Alien as a spawnable character. | 1 |
| | Uncle Sam (Quality Comics) | | Scribblenauts Unmasked features Uncle Sam as a spawnable character. | 1 |
| | Unknown Soldier | | Scribblenauts Unmasked features Unknown Soldier as a spawnable character. | 1 |
| | Vext | | Scribblenauts Unmasked features Vext as a spawnable character. | 1 |
| | The Vigilante (DC Comics) | | Scribblenauts Unmasked features Vigilante I as a spawnable character. | 1 |
| | Vigilante (DC Comics) | | Scribblenauts Unmasked features Vigilante II and Vigilante III as spawnable characters. | 1 |
| | Viking Prince | | Scribblenauts Unmasked features Viking Prince as a spawnable character. | 1 |
| | The Weird | | Scribblenauts Unmasked features Weird as a spawnable character. | 1 |
| | Wild Dog | | Scribblenauts Unmasked features Wild Dog as a spawnable character. | 1 |
| | Wildcat (DC Comics) | | Scribblenauts Unmasked features Wildcat as a spawnable character. | 1 |
| | Power Company | | Scribblenauts Unmasked features Witchfire from the Power Company series as a spawnable character. | 1 |
| | Zatanna | | Scribblenauts Unmasked features Zatanna as a spawnable character. | 1 |
| | Zatara | | Scribblenauts Unmasked features Zatara as a spawnable character. | 1 |
| | Deadshot | | Scribblenauts Unmasked features Zoe from the Deadshot series as a spawnable character. | 1 |