This page explains in detail the interactions between the Sonic series and the Yoshi series.
Super Mario World 2: Yoshi's Island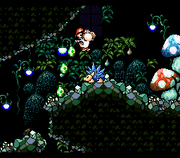 (19950815 August 15, 1995)
The Harry Hedgehog enemy in Yoshi's Island is believed by some gamers to be based on Sonic, being a blue hedgehog. However that's not the case, since Harry Hedgehogs are actually based on Porcupos, enemies originally from the 1988 game Super Mario Bros. 2, as their japanese name implies (the japanese Porcupo being Harimannen, while Harry Hedgehog is Super Harimannen). The fact that this enemy was included along with all other enemies from Super Mario Bros. 2 is not notable.
Mario & Sonic at the London 2012 Olympic Games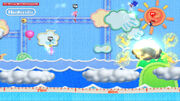 20091013 October 13, 2009

The stage for the Dream Long Jump even is "Yoshi Picture Book" and takes place in the Rail Rift stage from Yoshi's Story.
Sonic Lost World
20131222 December 22, 2013

A DLC Stage for Sonic's Lost World is Yoshi's Story which you fight Enemies from the Yoshi Series to save some Yoshis.
License
Yoshi's company Nintendo had no right over Sega's Sonic,series, in fact they only included a subtle reference in the game.
Ad blocker interference detected!
Wikia is a free-to-use site that makes money from advertising. We have a modified experience for viewers using ad blockers

Wikia is not accessible if you've made further modifications. Remove the custom ad blocker rule(s) and the page will load as expected.