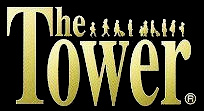 For detailed information about this series, see: SimTower at Wikipedia
The Tower is a series of management simulation videogames by OPeNBooK, where the player has to build and manage a tall building.
Four games where released, all sharing the same formula:
The Tower (1994), Windows, Mac OS 7. A Sega Saturn version, and a slightly enhanced PlayStation version titled The Tower: Bonus Edition were released in 1996. Only the PC version was released outside Japan, titled SimTower: The Vertical Empire. Re-released in 2010 for iOS.
The Tower II (1998), PC. Released outside Japan as Yoot Tower.
The Tower SP (April 28, 2005), Game Boy Advance.
The Tower DS (June 26, 2008), Nintendo DS.
Links to other series
Ad blocker interference detected!
Wikia is a free-to-use site that makes money from advertising. We have a modified experience for viewers using ad blockers

Wikia is not accessible if you've made further modifications. Remove the custom ad blocker rule(s) and the page will load as expected.