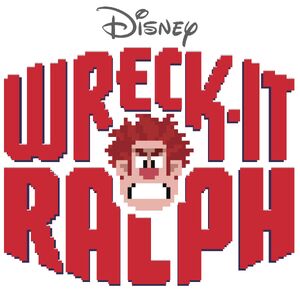 For detailed information about this series, see: Wreck-it Ralph Wiki
Wreck-It Ralph is a series by Walt Disney Animation Studios consisting in two feature movies and other promotional material.
The story of the original movie revolves around the titular character, an arcade game villain who rebels against his role as villain, and start a quest to become a hero. During his adventure, Ralph meets many other characters, including some from existing video games.
Movies
Wreck-It Ralph (November 2, 2012)
Ralph Breaks the Internet: Wreck-It Ralph 2 (November 21, 2018)
Videogames
Some different video games were released to promote the movie:
Fix-It Felix, Jr. (2012), an actual arcade cabinet based on the game from the movie, never released in arcades, but only shown at conventions and in Disney parks. The gameplay is an almost perfect replica of the one showed in the movie. An online version with some slight changes is available at Disney.com.
Fix-It Felix, Jr. (June 7, 2012), online. A different version than the arcade one, it doesn't have an ending, and has different power ups and slight differences in graphics.
Hero's Duty (October 2012), online game based on the game from the movie, found at Disney.com.
Sugar Rush Speedway (October 2012), online game based on the game from the movie, found at Disney.com.
Wreck-It Ralph (October 30, 2012), the official movie tie-in game, released for Nintendo DS and Wii. The story takes place some time after the movie.
Wreck-It Ralph Storybook Deluxe (November 2012), an interactive ebook for iOS, including a recreation of Sugar Rush and its "Bake A Kart" mode.
Wreck-It Ralph (November 2012), an app for iOS and Android including three games based on the movie: Fix-It Felix Jr., Hero's Duty and Sugar Rush: Sweet Climber, then updated to include two more: Turbo Time and Hero's Duty: Flight Command.
Publications
Wreck-It Ralph: The Junior Novelization (September 18, 2012)
Wreck-It Ralph (September 18, 2012), novelization in the Little Golden Book series.
Disney Comic Zone (January - October 2013), a two-issue magazine including three Wreck-It Ralph comic stories: "Wrecking Party" and "The Donut Kart" in issue 1, and "The Final Level Boss" in issue 2.
Wreck-It Ralph (2013), comic adaptation of the movie published in various European magazines.
Tricky Treats (July 22, 2014), story published in the book 5-Minute Spooky Stories.
Toys
Various toys based on the movie were released, including action figures and karts based on racers from Sugar Rush, and a toy gun based on Hero's Duty.
Links to other series
Note: video game characters appearing "alive" in the movie create an in-universe link, while arcade cabinets that only appear as such only create a sub-universe link, because they only appear as games within the movie.
Also note that since some characters or games in the movie were created as original and generic, it's inevitable that they feature some traits similar to existing series, but those are not considered direct references. Most notably Hero's Duty is considered a generic sci-fi first-person shooter, and while it features elements from existing games it does so exclusively because it's of the same genere.
| Direction | Series | Date | Description | Type |
| --- | --- | --- | --- | --- |
| | Donkey Kong | | Wreck-It Ralph features some references to Donkey Kong. | 3 |
| | Dance Dance Revolution | | Yuni from Dance Dance Revolution X2 makes an appearance in Wreck-It Ralph. | 1 |
| | Sonic | | Wreck-It Ralph features characters from the Sonic series; Ralph is selectable in Sonic & All-Stars Racing Transformed. | 1 |
| | Pac-Man | | Wreck-It Ralph features characters from Pac-Man. | 1 |
| | Street Fighter | | Wreck-It Ralph features various characters from Street Fighter II. | 1 |
| | The House of the Dead | | Wreck-It Ralph features a zombie based on Cyril from The House of the Dead, but the arcade cabinet for The House of the Dead can also be seen. | 2 |
| | Mortal Kombat | | Wreck-It Ralph features a character based on Kano from Mortal Kombat. | 3 |
| | Diablo | | The character Satine from Wreck-It Ralph may be based on Diablo. | 3 |
| | Mario | | Bowser makes an appearance in Wreck-It Ralph along with other references to the Mario series. | 1 |
| | Altered Beast | | Neff from Altered Beast makes an appearance in Wreck-It Ralph. | 1 |
| | Cyborg Justice | | Wreck-It Ralph features a robot possibly based on a cyborg from Cyborg Justice. | 3 |
| | Bolt (Disney) | | A flyer from Bold can be seen in Wreck-It Ralph. | 1 |
| | Paperman | | The piece of paper with the lipstick mark from Paperman can be seen in Wreck-It Ralph. | 1 |
| | Q*bert | | Wreck-It Ralph features characters from Q*bert. | 1 |
| | Tapper | | In Wreck-It Ralph, Ralph visits the game Tapper. | 1 |
| | Metal Gear | | An Exlamation Mark from the Metal Gear series makes an appearance in Wreck-It Ralph. | 1 |
| | Mickey Mouse | | Mickey Mouse makes an appearance on a billboard in Wreck-It Ralph. | 2 |
| | Rally-X | | The game TurboTime from Wreck-It Ralph is based on Rally-X. | 3 |
| | RoadBlasters | | In Wreck-It Ralph, the character Turbo visits the game RoadBlasters. | 1 |
| | Tomb Raider | | Wreck-It Ralph features a reference to Lara Croft. | 2 |
| | Centipede | | An arcade cabinet for Centipede can be seen in Wreck-It Ralph along with some other references to the game. | 2 |
| | Asteroids | | An arcade cabinet for Asteroids can be seen in Wreck-It Ralph and the game is cited by Ralph himself. | 2 |
| | Paperboy | | Paperboy makes an appearance in Wreck-It Ralph. | 1 |
| | Joust | | Wreck-It Ralph features a character based on the knights from Joust. | 3 |
| | Frogger | | Frogger makes an appearance in Wreck-It Ralph. | 1 |
| | Dig Dug | | Wreck-It Ralph features characters from Dig Dug. | 1 |
| | BurgerTime | | Peter Pepper from BurgerTime makes an appearance in Wreck-It Ralph. | 1 |
| | Pong | | The paddles and ball from Pong make an appearance in Wreck-It Ralph. | 1 |
| | Meet the Robinsons | | Tiny from Meet the Robinsons makes an appearance in Wreck-It Ralph. | 1 |
| | Tangled | | Vladimir from Tangled makes an appearance in Wreck-It Ralph, while Rapunzel appears in Ralph Breaks the Internet. | 1 |
| | Tron | | An access to the arcade game Tron can be seen in Wreck-It Ralph. | 2 |
| | Zelda | | Wreck-It Ralph features a character possibly based on Link from the Zelda series. | 3 |
| | Qix | | The Qix makes an appearance in Wreck-It Ralph. | 2 |
| | Battlezone | | An arcade cabinet for Battlezone can be seen in Wreck-It Ralph. | 2 |
| | Space Invaders | | An arcade cabinet for Space Invaders can be seen in Wreck-It Ralph. | 2 |
| | Food Fight | | An arcade cabinet for Food Fight can be seen in Wreck-It Ralph. | 2 |
| | Star Wars | | A cabinet for the Star Wars arcade game can be seen in Wreck-It Ralph. | 2 |
| | Teenage Mutant Ninja Turtles | | An arcade cabinet for the Teenage Mutant Ninja Turtles game can be seen in Wreck-It Ralph. | 2 |
| | Dragon's Lair | | An arcade cabinet for Dragon's Lair can be seen in Wreck-It Ralph. | 2 |
| | Virtua Cop | | An arcade cabinet for Virtua Cop and the access to it can be seen in Wreck-It Ralph. | 2 |
| | Daytona USA | | Wreck-It Ralph features a game based on Daytona USA. | 2.5 |
| | Final Fantasy | | Wreck-It Ralph features a reference to Aerith fromFinal Fantasy VII. | 2 |
| | Warcraft | | Wreck-It Ralph features a reference to the "Jenkins" meme from World of Warcraft. | 2 |
| | Zero Wing | | Wreck-It Ralph features a reference to the phrase "All your base are belong to us" from Zero Wing. | 2 |
| | Sim | | Wreck-It Ralph was originally going to feature a world partially based on The Sims. | 3 |
| | Grand Theft Auto | | Wreck-It Ralph was originally going to feature a world partially based on the GTA series. | 3 |
| | Mega Man | | Dr. Wily from Mega Man was originally going to be featured in Wreck-It Ralph. | 1 |
| | Sega Superstars | | Ralph from Wreck-It Ralph is selectable in Sonic & All-Stars Racing Transformed. | 1 |
| | The Fairly OddParents | | Characters looking like Wreck-It Ralph and Vanellope appear in the Fairly OddParents episode Dumbbell Curve. | 3 |
| | Disney Infinity | | characters from Wreck-It Ralph are characters in Disney Infinity. | 1 |
| | 5-Minute Spooky Stories | | 5-Minute Spooky Stories includes the Wreck-It Ralph story Tricky Treats. | 2 |
| | Alexander and the Terrible, Horrible, No Good, Very Bad Day | | Wreck-It Ralph is mentioned in Alexander and the Terrible, Horrible, No Good, Very Bad Day. | 2 |
| | Big Hero 6 | | A poster,a figurine, and The Hero's Duty Armor from Wreck-It Ralph appears in Big Hero 6, while an image of Baymax appears in Ralph Breaks the Internet. | 2 |
| | The DUFF | | Wreck-It Ralph is mentioned in The DUFF. | 2 |
| | Zootopia | | A parody of Wreck-It Ralph titled "Wreck-It Rhino" makes a small appearance within the movie Zootopia. | 2.5 |
| | Crossy Road | | Disney Crossy Road has Wreck-It Ralph characters. | 1 |
| | Disney Heroes: Battle Mode | | Disney Heroes: Battle Mode features characters from Wreck-It Ralph. | 1 |
| | Disney's Snow White and the Seven Dwarves | | Snow White appears in Ralph Breaks the Internet. | 1 |
| | Disney's Sleeping Beauty | | Princess Aurora appears in Ralph Breaks the Internet. | 1 |
| | Disney's The Little Mermaid | | Ariel appears in Ralph Breaks the Internet. | 1 |
| | Disney's Beauty and the Beast | | Belle appears in Ralph Breaks the Internet. | 1 |
| | Disney's Aladdin | | Jasmine appears in Ralph Breaks the Internet. | 1 |
| | Disney's Pocahontas | | Pocahontas appears in Ralph Breaks the Internet. | 1 |
| | Disney's Mulan | | Mulan appears in Ralph Breaks the Internet. | 1 |
| | The Princess and the Frog | | Tiana appears in Ralph Breaks the Internet. | 1 |
| | Brave (Disney Pixar) | | Merida appears in Ralph Breaks the Internet. | 1 |
| | Frozen (Disney) | | Anna and Elsa appear in Ralph Breaks the Internet. | 1 |
| | Moana | | Moana appears in Ralph Breaks the Internet; additionally an image of Ralph appears during the credits of the movie Moana.. | 1 |
| | Winnie the Pooh | | Eeyore appears in Ralph Breaks the Internet. | 1 |
| | Iron Man | | Iron Man appears in Ralph Breaks the Internet. | 1 |
| | Star Wars | | Stormtroopers appear in Ralph Breaks the Internet. | 1 |
| | Dumbo | | Dumbo appears in Ralph Breaks the Internet. | 1 |
| | Up (Pixar) | | The house from Up appears in Ralph Breaks the Internet. | 1 |
| | The Muppets | | An image of The Mupper Show appears in Ralph Breaks the Internet. | 2 |
| | WALL-E | | An image of EVE from WALL-E appears in Ralph Breaks the Internet. | 2 |
| | Cars | | A Cars image appears in Ralph Breaks the Internet. | 2 |
| | Kingdom Hearts | | Ralph can be summoned in Kingdom Hearts III. | 1 |